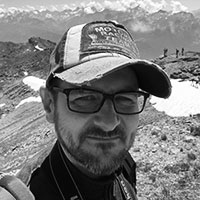 Sebastien Hue is a French CG artist who lives in Paris' suburb. Self-taught, he became professional concept artist and illustrator in 2013 founding is own freelance studio Shue-Digital and found his way among many international clients in the entertainment industry, publishing, creative agency, computer software and music.
Among his clients he notably worked for Axis Studios, Unit Image, EA, Paizo, Harpercollins, Hachette, Adobe, Finalmouse and Epic Score
Sebastien has been hired as Art Director in an indie studio called Black Ice Studios since the beginning of 2022.
---
Art Skills: Art Direction/Visual development/Concept Art / Digital Painting / Illustration / 2D Matte Painting / 
Technical Skills: 

---
Education: Keyart Workshop with Andrée Wallin, Self-Taught for 13 years in Art, Master Thesis in English
Speaker at: View Conference 2020 (Online)
                    View Conference 2019 (Turin, Italy)
                    We Are Playgrounds: The Art Department 2017 (Eindhoven, Holland)
---
Internet interviews and features:
2019
2017
2016
2015
2014
2013